Jack Thomas Smith's Cult Thriller DISORDER available Worldwide on Digital HD
Buy Now: Amazon Prime – Tubi – Vimeo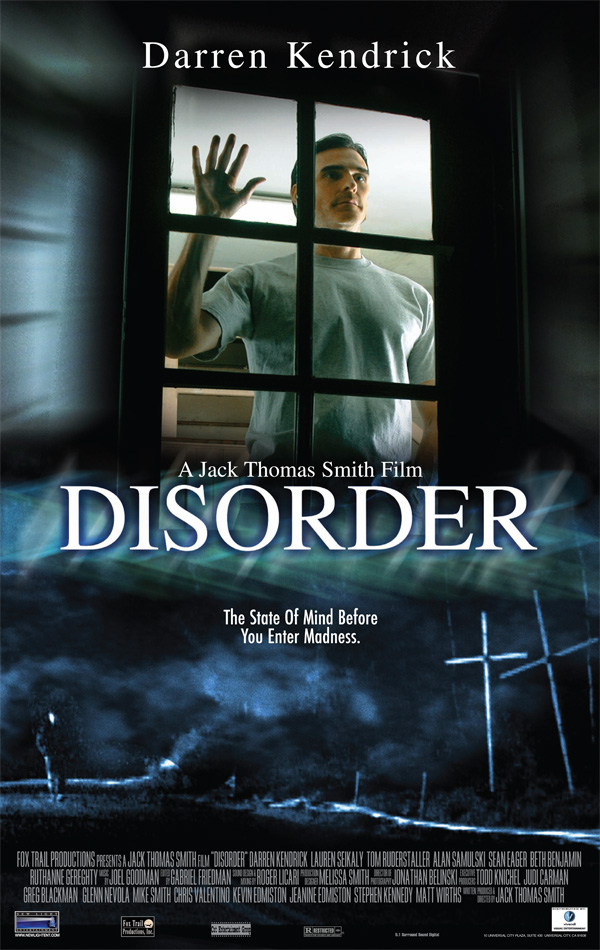 Film: Disorder
Director: Jack Thomas Smith
Producer: Jack Thomas Smith
Executive Producers: Todd Knichel, Judi Carman, Greg Blackman, Chris Valentino, Mike Smith, Jeanine Edmiston, Kevin Edmiston, Glenn Nevola, Stephen Kennedy, Matt Wirths
Screenwriter: Jack Thomas Smith
Starring: Darren Kendrick, Lauren Seikaly, Thomas Ruderstaller, Alan Samulski, Sean Eager
Music Composer: Joel Goodman
Cinematographer: Jonathan Belinski
Editor: Gabriel Friedman
Production Company: Fox Trail Productions
Distributor: Universal/Vivendi, Warner Brothers, Monarch Films
Release Date: August 21, 2006
Running Time: 103 minutes
When David Randall was sent away for a brutal double murder, his claims of innocence and description of a masked killer went ignored. Now, accompanied by the horrific memory of that night, David, a medicated schizophrenic, comes home, hoping for a new life. But the deadly masked figure from his past returns. Does the killer really exist, and is David being set up once again? Or has David stopped taking his medication and is now in a dangerous delusional state?

DISORDER opened in select theaters in the summer of 2006 and was later released on DVD and VOD by Universal/Vivendi and Warner Brothers. Overseas, it screened at the Cannes Film Festival and the Raindance Film Festival in London. Curb Entertainment represented DISORDER for foreign sales and secured distribution deals around the world.
DISORDER has just been released worldwide on Digital HD for the first time by Monarch Films and is now available on Amazon Prime, Vimeo On Demand, and other online retailers.

DISORDER is also available at FYE, Walmart.com, Amazon, Barnes & Noble, Best Buy, and Netflix.