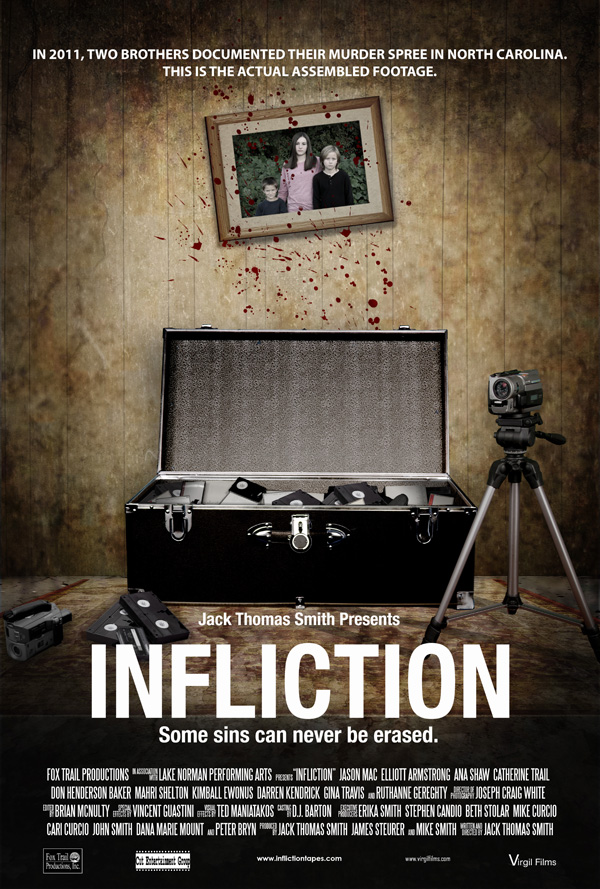 Film: Infliction
Director: Jack Thomas Smith
Producers: Jack Thomas Smith, James Steurer, Mike Smith
Executive Producers: Erika Smith, Stephen Candio, Beth Stolar, Mike Curcio, Cari Curcio, John Smith, Dana Marie Mount, Peter Bryn
Screenwriter: Jack Thomas Smith
Starring: Jason Mac, Elliott Armstrong, Ana Shaw, Catherine Trail, Don Henderson Baker
Cinematographer: Joseph Craig White
Editor: Brian McNulty
Production Company: Fox Trail Productions
Distributor: Virgil Films & Entertainment
Release Date: March 16, 2014
Running Time: 106 minutes
Exclusive INFLICTION Clips
About INFLICTION
Feature film director Jack Thomas Smith's current project he calls INFLICTION is the actual assembled footage taken from the cameras belonging to two brothers, who documented a murder spree in North Carolina in 2011. The footage reveals in disturbing detail their actions and motives. It documents the effects of people's actions or inactions and its long-term consequences on other's lives. INFLICTION presents in cold detail a hard look at the blurred line between society's criminals and victims.
In 2014, INFLICTION opened in select theaters across the country and was released on DVD, VOD, and Digital HD in the U.S. and Canada by Virgil Films & Entertainment. INFLICTION is now being represented for international distribution by the foreign sales agency Cardinal XD and will be available at all of the major film markets around the world, including the Toronto Film Festival; the American Film Market in Santa Monica, CA; Sundance; the Berlin Film Festival; and Cannes.
For INFLICTION, Smith won awards for Best Story in a Feature Film at the Buffalo Niagara Film Festival and Best Screenplay at the Macabre Faire Film Festival.
INFLICTION is now available on VOD on most major cable providers, including Comcast, Time Warner Cable, Bright House Networks, Cox Communications, RCN Cable, Service Electric Cablevision, and other independent operators.
INFLICTION is also available at FYE stores, Walmart.com, iTunes, Amazon, Columbia House, Barnes & Noble, Family Video, CD Universe, Best Buy, Google Play, Cinema Now, Vudu, Vimeo OnDemand, FrightPix, and other online retailers.